Welcome to the Official Site for Carly Paige. You may recognize Carly from one of her jobs for companies such as Hanna Andersson, J.Crew and Saks Fifth Avenue. Here you will find all of the latest news and up to date information about this talented young actress and model. For Industry Professionals looking to learn more about Carly, please click on her name above for an overview of information.


NEWS & UPDATES
24 Nov 2014
LittleMissMatched
Carly had a
fabulous
time working for
LittleMissMatched
a few months ago. She made new friends on set, and loved getting to model several different looks for their
winter collection
. The company has recently updated their
website
and released new photos of Carly! She can be spotted modeling a variety of bright and funky colored long sleeve shirts, as well some different hats. They even used a fun outtake as one of their images which it is always nice to see that side of shoots. Make sure to view the new photos in the gallery, and
thank-you
to the team at
LittleMissMatched
for a very fun photoshoot!



Posted by: Lisa
16 Nov 2014
Happy Birthday!
November 16th has finally arrived and Carly is so
excited
to see what the day will bring for her! She cannot wait to spend it with family, friends, and everyone who comes out to help her celebrate her birthday as she turns seven!
Happy Birthday Carly
! I hope you have a wonderful time today as you take part in all of the traditions your family has to help make your birthday one to remember. Enjoy opening presents, having cake, and make sure to make a wish when you blow out the candles, I hope it comes true!
Happy Birthday!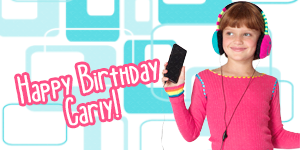 Posted by: Lisa
14 Nov 2014
Amour Bows
Carly had a
fantastic
time shooting for
Amour Bows
last weekend! She got to work at a beautiful property full of open green space and a pretty cool building that felt like a castle. Mary Kate shared some
sneak peeks
from the photoshoot throughout the week and has treated us to some fun group photos and a great solo shot of Carly. She loved the outfit she got to wear, with the bow being her favorite part of course, and Mary Kate captured some wonderful photos of Carly running around and playing on the grass with her friend Raya and the younger girls. This sneak peek definitely leaves us very
excited
to see the rest of the photoshoot!
Behind the scenes, Carly enjoyed working with some of her friends while also making many new ones. She really took to Samantha who was one of the toddlers shooting that day, and even wanted to take her home with her! Carly knows though that Samantha's family would miss her too much and instead she took some fun photos with her to capture the memory of this fun day. A video was also recorded at the shoot which can be found in the
media section
and a
thank-you
goes out to Samantha and Raya's families for some of the photos of the girls working together. What a fun photoshoot and Carly can not wait to get a chance to shoot with
MKG Photography
again!




Posted by: Lisa
08 Nov 2014
Grand Opening!!
Welcome to Carly Paige's
Official Website
! Here you will find all of the latest news, images, and media for Carly and her career. Carly has worked for companies including
Hanna Andersson
,
J.Crew
, and
Saks Fifth Avenue
. She can be seen in the current issue of
Vogue Bambini
, recently shot for
GAP
and her commercial for
Riders by Lee
is currently airing on stations such as Hallmark and TV Land!
We'd like to thank the
wonderful
Sarah of
Serberry Designs
for our fabulous layouts for the site. A
thank-you
also goes out to
MKG Photography
whose photoshoot with Carly can be seen in the main and gallery designs. Don't forget to
sign the guestbook
, we'd love to hear from you!
To start off the first of many
fantastic
updates is Carly's shoot with
MKG Photography
! She has had the chance to shoot with Mary Kate a couple of times this year, and was so happy to do a headshot session with her, especially after seeing the images that were taken of her brother Luke shortly before! The photos came out
fabulously
, the location chosen made for a great backdrop as Carly showcased several different looks and poses. Mary Kate captured some really nice close ups for headshots, and the photos of Carly in white with the necklace are among favorites.
Thank-you
Mary Kate for such a fun photoshoot and for all of the new images of Carly!



Posted by: Lisa
<< Previous 1 2 3 4 5 6 7 8 9 10 11 12 Next >>