Welcome to the Official Site for Carly Paige. You may recognize Carly from one of her jobs for companies such as Hanna Andersson, J.Crew and Saks Fifth Avenue. Here you will find all of the latest news and up to date information about this talented young actress and model. For Industry Professionals looking to learn more about Carly, please click on her name above for an overview of information.


NEWS & UPDATES
09 Dec 2014
Kipp Collection
Carly had an
amazing
time shooting for
Kipp Collection
recently! She got to model several different outfits, make new friends, and the whole day was a lot of fun. The shoot was at a home in Brooklyn and unlike anything she has ever seen before. There were so many rooms, and her friends had a great time exploring the place and working with the balcony, and climbing around while doing the group shots. One of the
best
parts for Carly was getting to work with a tiny little bird, who even sat on her head! She cannot wait to see the images from that, along with all of the ones used from that day when they release, and a
thank-you
goes out to Ethan and Gabby's families for some of the behind the scenes photos!


Posted by: Lisa
04 Dec 2014
Star-Kidz Interview
Last month Carly took part in the annual
November Q&A event
at
Star-Kidz
! She got to answer questions about how she got started in the industry, various projects, and if you missed seeing the Q&A on their website, make sure to read it below:
Carly Paige is a young actress/model from the New York City area. She can currently be seen for Company Kids, LittleMissMatched, and her commercial for Lee Jeans is airing on TV! To keep up to date make sure to visit her
official website
, like her page on
Facebook
, and visit her manager's
page
too!
1. How did you get started in the industry?
My Mom submitted to an agency and they selected me!
2. What was your first booking? What was it like being on set for the first time?
Laura Ashley shoes. It was fun. Loved getting my hair and makeup done!!
3. How did you enjoy shooting for LittleMissMatched?
I loved LMM. The stylist was so fun to work with. This was one of my favorite shoots ever!
4. Do you have a favorite Hanna Andersson shoot that you've done?
They all were great!
5. What is the best part about working for H&M?
Being on location at a park in Brooklyn. Location shoots are fun.
6. How did you feel when you saw yourself on the cover of Parents Magazine?
Soo happy...I freaked out!!!
7. What was the experience like working for J.Crew?
Fun. I loved the photographer, and especially I loved shooting in the Bahamas.
8. What is the best part about shooting for Ruum?
Getting to work with Anna Palma, the photographer and all my model friends. I love their clothes!
9. Who have been some of your favorite people to work with?
Colette my manager. I know she works really hard for me. All my model friends and Mary Kate the photographer.
10. What has been your favorite project to work on so far?
Shooting for J.Crew in the Bahamas.
Is there anything else you would like to add?
Thank you for interviewing me and the opportunity
(Image by MKG Photography)
Posted by: Lisa
24 Nov 2014
LittleMissMatched
Carly had a
fabulous
time working for
LittleMissMatched
a few months ago. She made new friends on set, and loved getting to model several different looks for their
winter collection
. The company has recently updated their
website
and released new photos of Carly! She can be spotted modeling a variety of bright and funky colored long sleeve shirts, as well some different hats. They even used a fun outtake as one of their images which it is always nice to see that side of shoots. Make sure to view the new photos in the gallery, and
thank-you
to the team at
LittleMissMatched
for a very fun photoshoot!



Posted by: Lisa
16 Nov 2014
Happy Birthday!
November 16th has finally arrived and Carly is so
excited
to see what the day will bring for her! She cannot wait to spend it with family, friends, and everyone who comes out to help her celebrate her birthday as she turns seven!
Happy Birthday Carly
! I hope you have a wonderful time today as you take part in all of the traditions your family has to help make your birthday one to remember. Enjoy opening presents, having cake, and make sure to make a wish when you blow out the candles, I hope it comes true!
Happy Birthday!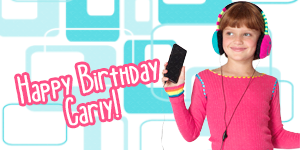 Posted by: Lisa
<< Previous 1 2 3 4 5 6 7 8 9 10 11 12 13 Next >>