Welcome to the Official Site for Carly Paige. You may recognize Carly from one of her jobs for companies such as Hanna Andersson, J.Crew and Saks Fifth Avenue. Here you will find all of the latest news and up to date information about this talented young actress and model. For Industry Professionals looking to learn more about Carly, please click on her name above for an overview of information.


NEWS & UPDATES
24 Nov 2015
Molly Magnuson/Babiekins
Carly loves shooting with
Molly Magnuson
and recently did not one, but
two
shoots with her! Doing both in the same day she loved working with Molly and Alyssa Lorraine who did the hair and make up for the day. The first set was a creative project Molly put together, and dressed in sweaters, Carly and her friends had a great time posing for pictures incorporating balloons and mustaches! The second half of the shoot was for
Babiekins
and featured on their website. With her edgier look, Carly rocked her outfit, gold backpack, and check out her hair!




There was a lot of fun to be had behind the scenes of both photoshoots that day. Carly and her friend Alex were quick to pose for some photos with Molly, and Carly also enjoyed showing off her different looks and the props they got to use. It was very exciting for her to see herself on the
Babiekins website
a few weeks later, and we all love the images that came out of both shoots.
Thank-you
Molly and Alyssa for such a great time!


Posted by: Lisa
16 Nov 2015
Happy Birthday!
Today is a big day for Carly as it is her first official one as an
eight year old
! She is looking forward to all of the fun and celebration as she enjoys one of her favorite days of the year, her birthday!
Happy Birthday Carly
! I hope you have a
fabulous
time celebrating with family and friends, and enjoying all of the traditions the day brings. I hope that today is everything that you hoped it would be and more, so much to enjoy for your special day, and I'm sure you're going to enjoy every minute of it!
Happy Birthday
!
Posted by: Lisa
05 Oct 2015
Hooligans Magazine
Carly had a fantastic time shooting for
Hooligans Magazine
a couple of months ago and the issue is now out! She appears in Issue 3/September in a multiple page spread entitled
"Vintage NYC"
which takes a trip back in time to the simple days where kids played in the streets, and the different styles of the time. The images came out fabulously and Carly can be spotted in both solo and group images for the feature. With a
thank-you
to
M'Kate Photography
we also have the shoot images from the day, including some more fun shots of her doing jump rope with her friends and reading books on the doorstep together.


Behind the scenes, Carly had a wonderful time working with everyone who was on set. She was happy to have some of her friends doing the shoot with her, and made a few new ones as well. They had so much fun playing together that it was almost easy to forget there was a camera taking their picture as they used the jump rope. What a fun shoot and you can pick up your copy of the magazine
here
!


Posted by: Lisa
08 Sep 2015
French Toast
It's the most wonderful time of the year...at least according to parents...school is back in session across the country and many students are attending class wearing their uniforms from
French Toast
! Lots of stores have been selling them, which has meant many of advertisements in the weeks leading up to the first days of school, and Carly's images have been featured from store
websites
to the
Daily News
! It has been a lot of fun seeing where they have been popping up and even more so getting to see different shots from the shoot being used. Carly had a fantastic first day back and hopes that everyone else returning to school is having a great school year so far too!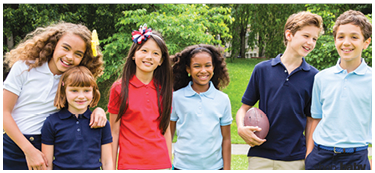 Posted by: Lisa
<< Previous 1 2 3 4 5 6 7 8 9 10 11 12 13 Next >>